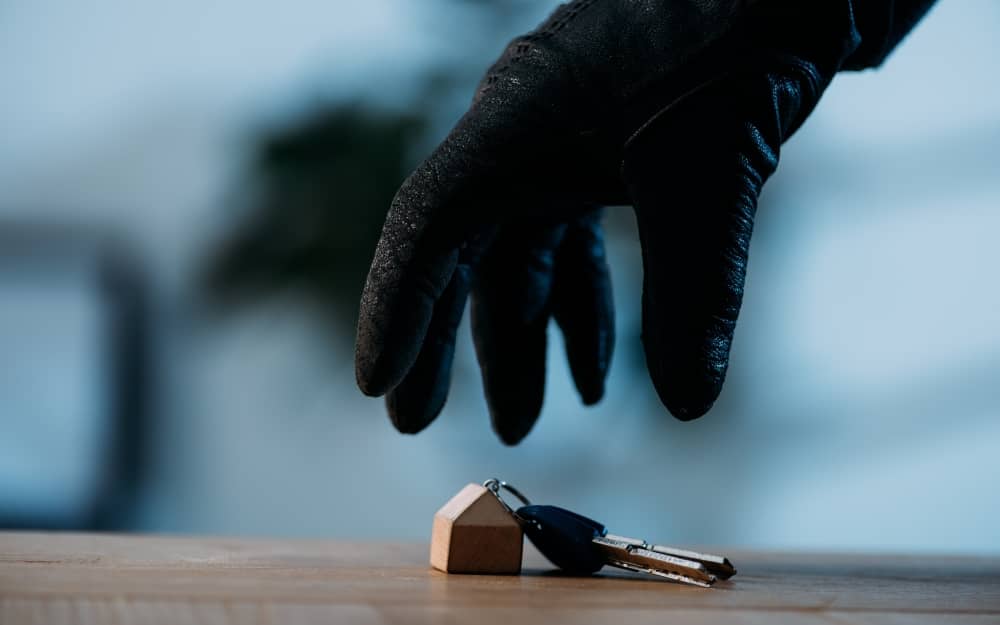 While many people have the unfortunate experience of locking themselves out of their car or home, fewer experience having their keys stolen. The impact you experience because of stolen keys may vary. Having a home or work keys on the same key ring is very common and increases the level of angst surrounding the situation. The distress caused by stolen keys typically ranges from the level of inconvenience to that of a nightmare, depending on the steps you take after realising your keys have been taken.
Whether or not your house or office keys are with the other stolen keys will add a few steps to the process. The same is true if you have identifying information on your key ring.
Step-by-Step Process
Discovering your keys have been stolen often gives a sense of panic. You worry about family or valuables. Try and recall if you know how to change locks, or you may wonder, "How can I find a locksmith near me?" These are all natural responses to discovering your keys have been stolen. However, by following these steps, you will be able to increase your peace of mind and security.
Call the Police – You should file a report with the police right away and make sure to include as much detail as possible. While the local police department will not drop everything to try and locate the thief and your keys, you will have a record of the incident. This can be helpful, especially if your purse or wallet was taken. A reason for this is that identity theft is rising, and proving you experienced an issue that could lead to someone taking your identity is useful. Also, many insurance companies want a police report if your keys were stolen.
Cancel Credit Cards or Bank Cards – Also, you may consider having your driver's license re-issued. If your keys were the only thing taken, these steps should not be an immediate necessity. While cancelling cards can feel inconvenient, dealing with the fallout of someone else using your money, credit, and identity is much more of a hassle.
Contact Your Insurance Company – Your policy may cover replacing key fobs that are stolen. Even if this is not the case, having a record of the theft is wise. You should inform your homeowner's insurance company if your house keys are also gone. Likewise, if office keys are gone, get in touch with superiors to tell them, or speak to your insurance company if you are the person in charge.
Contact a Locksmith – A professional locksmith can advise you regarding changing or re-keying locks and replacing your car keys. Typically, you will save time and money by working with a local locksmith instead of your car dealership. If your car is older and not equipped with the necessary technology, you should speak with your locksmith about changing the locks and ignition.
Keep an Eye Out for Suspicious People Around Your Car, Home or Office – There are many examples where stolen keys were the first step in a burglary plan. With enough basic information, a thief can usually go on social media to find in-depth details that can make theft easier. You should always err on the side of caution if you believe something is wrong. The police would prefer to assist you if you think you may be in trouble than after you become a victim of another crime.
Explore Your Security Options – For many, this type of event catalyzes them to take stock of their overall security. Upping the security on an older model vehicle can be a wise option, especially if the car runs well and you plan on driving it for as long as possible. Adding electrical/digital locks in homes and offices is extremely popular. These raise your security to a higher level and can increase your peace of mind. Additionally, remote keyless systems eliminate the worry about losing your keys or having them stolen.
Remember, if your keys are stolen, try not to panic. The faster you realise there is an issue, the easier it will be to get ahead of any damage. You can reach out to Diamond Locksmith 24 hours a day. We have been in business since 1980, and our team of professionals are committed to providing customers with the highest possible level of service and products. You can count on our emergency locksmiths to respond quickly and help you navigate the process of securing your belongings. Our knowledgeable professionals can instruct you about what is necessary, such as needing to re-key your Perth locks. You can feel confident knowing our experienced locksmiths will set things right as quickly as possible.