Aperio
By Lockwood
This new technology enables mechanical locks to be wirelessly linked to an existing system.
Aperio integrates directly with the access control system to form one system, it is not an add on or two systems linked together. It utilises the one access control database and provides live events directly to the access control event log.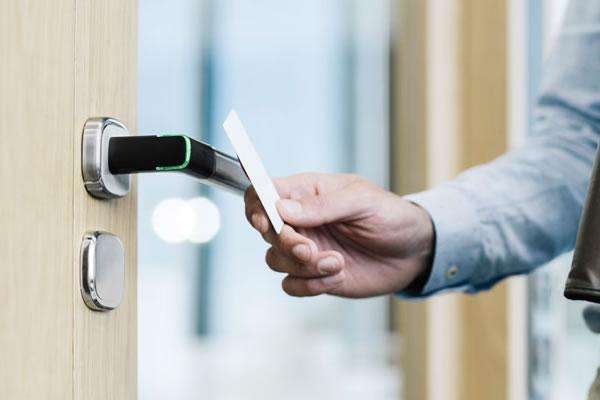 Wireless Access Control
The Evolution Starts Here
The heart of Aperio is the short-range wireless communication protocol which provides communication between the Aperio Locks to the Aperio Hub.
The Aperio hub is wired via RS485 to the access control system. Depending on the type of access control system used up to 16 hubs can be wired together on a single RS485 Bus.
The 1-to-8
Communication Hub
The Aperio Hub has a transmission range of 25meters and will communicate with up to 8 Aperio devices depending on the access control system it is connected to.
Communication between the hub is encrypted using 128 AES Encryption
Connects up to 8 Aperio™ devices
Operates within a transmission range of 25 metres
Reduced time and effort required for installation
Significantly reduces costs for integrated access control doors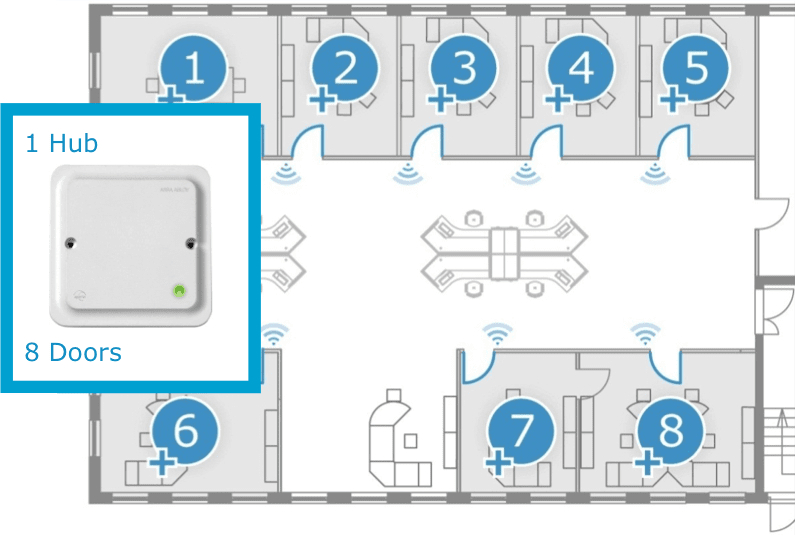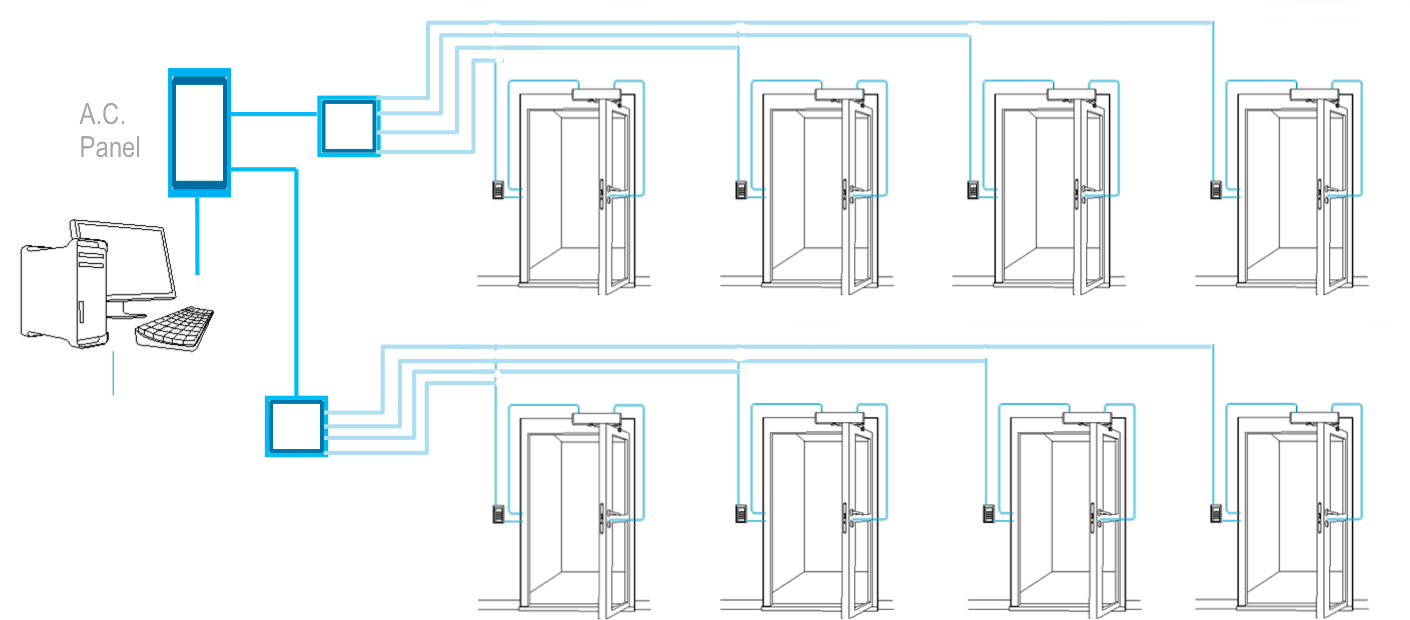 Savings of Aperio
Cabling and Installation Efficiency
Looking at a standard Access Control installation, considerable labour is used cabling and installing card readers and electric strikes. You can double that labour if retrofitting into an existing building or installing electric mortice locks, triple that labour if retrofitting a Heritage Building or Architectural Building.
Dramatic savings on:
Cabling
Labour
Fitting off components
Reader module
Controller
Power Supply
and – Strike, Mortice Lock, Mag Lock, or other
* No difficult cabling across or down concrete, glass, etc.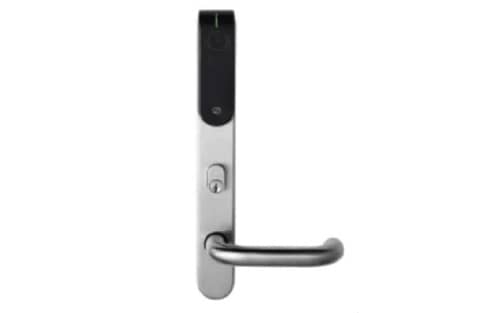 Escutcheon – E100
Aperio Escutcheon, is the standard when converting mechanical locks to Online Wireless Access Control.
Battery powered
>40K operations
Card reader and wireless transceiver
Brushed stainless steel finish standard
Alternative cylinder types
Key override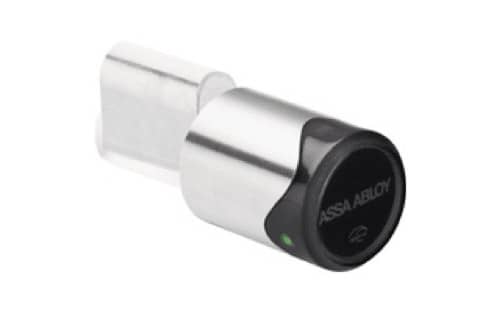 Cylinder – C100
C100 cylinder ideally designed to replace key operated locks, that is where the door remains locked and is always accessed using a key, the advantage of converting such doors to access control provides easy operation for staff, full audit trail, live to the access control system and eliminates key management issues.
Battery powered
>40K operations
Card reader and wireless transceiver
Standard Australian oval cylinder
Replaces standard keyed cylinder
Retro fit Lockwood 3570 series lockcase
Cabinet Lock
Wireless Access Control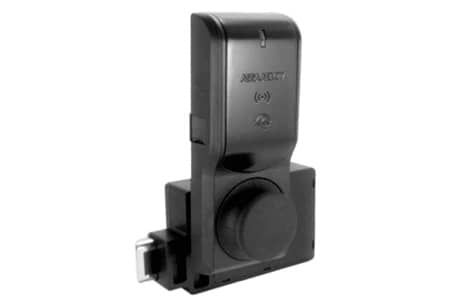 Cabinet lock – K100
Card reader and wireless transceiver
Battery powered
>50K operations
Extended >100K operation option
Key override option
Immediate live monitoring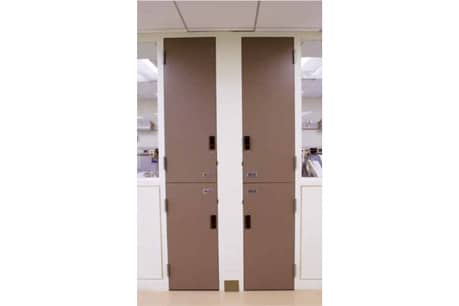 Cabinet Security
Mifare/Desfire/iClass & 125khz Prox credentials supported
Mechanical key override option
Battery jump port
Dual battery option providing up to 100,000 operations
Extend access control to cabinets, cupboards and drawers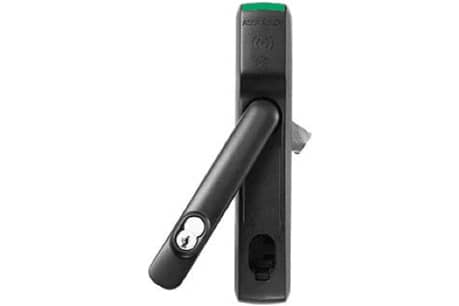 Server lock – K100
Card reader and wireless transceiver
48v POE or 24v Standard Power
Key override
Door & lock monitoring
Mifare/Desfire/iClass & 125khz Prox credentials supported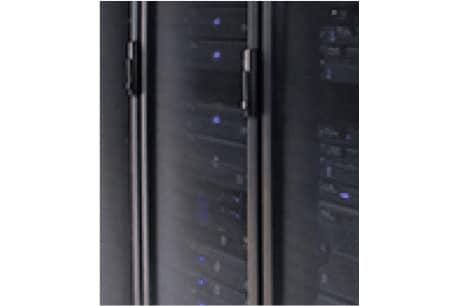 Server Rack Security
Cost effective solution for a single data cabinet or for a complete data center
High security asset protection with audit trail
Hardwired POE 48VDC or standard 24VDC option

Easy to install
Designed for standard 25mm x 100m server lock opening

For use on left or right handed doors
Door and lock status monitoring