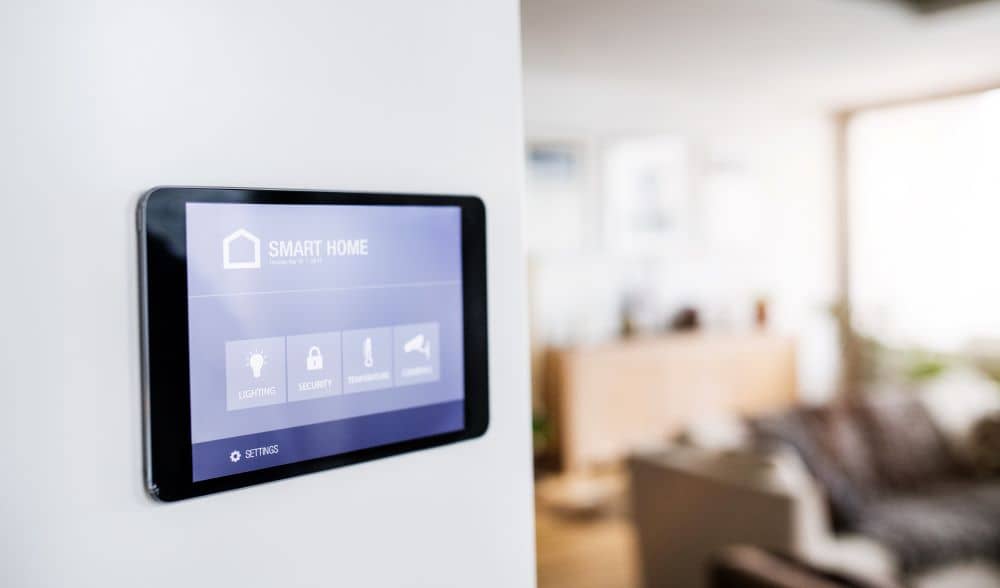 September 28, 2021

|

0

3,432
Smart homes are appealing to those who want a futuristic home experience. And let's face it; who doesn't want to have an intelligent place to live in where one feels safe and secure? A simple voice command can allow you to access and take control of your house without being physically present. Sensor-powered security systems can respond to your needs. You can communicate with your home using your smartphone and other devices.
You're probably wondering whether a smart home also means you benefit from home automation. To some extent, yes. However, automation technology for homes is relatively new and still developing. Security companies are still searching for methods that enable their systems to work with smart home devices. This doesn't mean that you cannot have both – possibly even use an all-in-one system.
This blog focuses on details you may want to know about home automation. We discuss how it can help you and your top options to have a smart home security system.
How Does Home Automation Work?
In an automated home, there is a seamless connection between your smart devices. You can control everything with your voice or with a click of a button. Several options are available, which let you customise your system. But the best part of it all is that you can pair your smart devices with your security system. This capability allows you to maximise functionality and protection for your entire property.
Home automation, in a nutshell, works through a network of devices. They are connected to the Internet using a variety of protocols with Bluetooth and WIFI as the most common. You can manage these devices remotely through electronic interfaces, such as Google Assistant, Alexa, or a specific app.
Most devices come with sensors that can monitor changes in the atmosphere, including motion, light, and temperature. Armed with information regarding any change, you can make physical modifications to the device by triggering actuators. These actuators are mechanisms, such as motorised valves or smart light switches, which allow you to control your devices remotely.
There are three primary levels to home automation:
Monitoring means you check in on your devices using an app. An example is viewing your security camera's live feed.
Control denotes you access your device from another location, such as panning the camera to your desired angle to see your entryway.
Automation, the third level to home automation, means you connect and set up triggers. For instance, a smart siren can automatically go off when your security camera senses motion.
A home automation system is made of several components. Some are directly connected to your router, whilst others require hubs. But regardless of the type of system you have, you will most likely install and use the following:
Remote control, which can be in the form of a mobile app or a voice assistant
Cloud server, where you upload camera footage on the cloud or online, meaning it's not stored locally in your computer or micro SD card
Control protocols in which the devices communicate, such as through WIFI, Bluetooth, and low-power mesh networks
Home security systems have improved indeed, thanks to technology. You feel more protected in a smart home with bolstered security. Whether you're in your living space, office, or another city, you can rest assured you have a reliable solution to keep your property safe.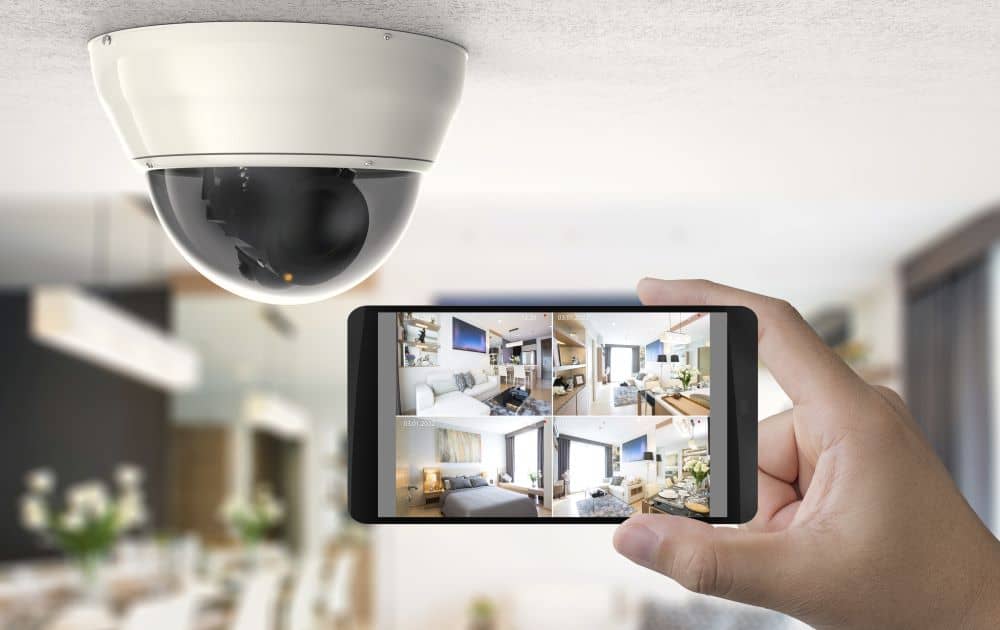 Why You Should Automate Your Home Security
If you're still wondering if home security automation is for you, here are benefits that will surely convince you:
Automation enables remote access. The ability to control devices remotely is a worthwhile expense. You can unlock your door without needing to leave a key under a rock or mat. You don't have to worry about locking yourself out or waking up in the middle of the night just to open the door for someone.
You get to enjoy a few perks. When you're already comfy in bed, it's such a nuisance to get up because you forgot to turn the bathroom light off. With just one click of a button, you can take care of the light.
Investing in home security automation can save you money. How many times have you forgotten to turn off your heater or air conditioner when there's no one in the house? You are wasting a lot of money and energy. But with home automation, you can set devices such as your thermostat to control temperature right on schedule. Smart technology does pay for itself, especially in saving power.
Automation is undeniably convenient. You can control your devices through a voice command or remotely. You can set them to operate on schedule, as well. Imagine waking up in the morning, and your toast is ready without pushing any button.
Your home is much safer. Some smart products or systems are designed to boost your home's security. You can install sensors to monitor doors and windows. A camera that detects motion will start recording so that you can watch the footage at a later time. You can also have video doorbells, which allow you to greet a guest without walking to the front door.
With the benefits above, it's easy to see why more and more Australians are looking to automate their home security systems.
6 Options for Automated Security Systems
Smart devices have become more intelligent than ever. You can now sync them to your security system, which gives you even more reasons to automate. There are many ways to control and manage your home security system, including:
1. Doorbell Video Intercom
Also known as smart doorbell cameras, doorbell video intercoms are installed outside of front doors. Their primary purpose is to let you see the person outside before you answer the door. These doorbell cameras can also have other features, such as motion sensor alerts, previous footage replays, and remote communication. You can connect your doorbell video intercom with your home security system, making it convenient for you to control them using one app.
2. Security Cameras
Unlike doorbell cameras, security cameras can monitor all parts of your house. They are typically used to check in on kids, pets, and other valuables. Smart security cameras can provide live or recorded footage or both, which you can access in your security app. You can also upload the footage to a Cloud account, so you don't have to use onsite storage.
When shopping for a security camera for your home, you'll immediately discover that there are tons of options to choose from. Begin by determining whether you need indoor or outdoor cameras. They have different characteristics, especially in regards to their construction. Outdoor cameras are designed to survive the elements, which means they are made of tough materials like metal. They are bulkier, as well. Meanwhile, indoor cameras are often small and discreet.
Some of the features that you may want to look for are:
High video resolution
Wide field of view
Audio recording
Motion detection
You're probably wondering about WIFI connectivity. Because we're talking about security cameras as a smart device, WIFI is a given.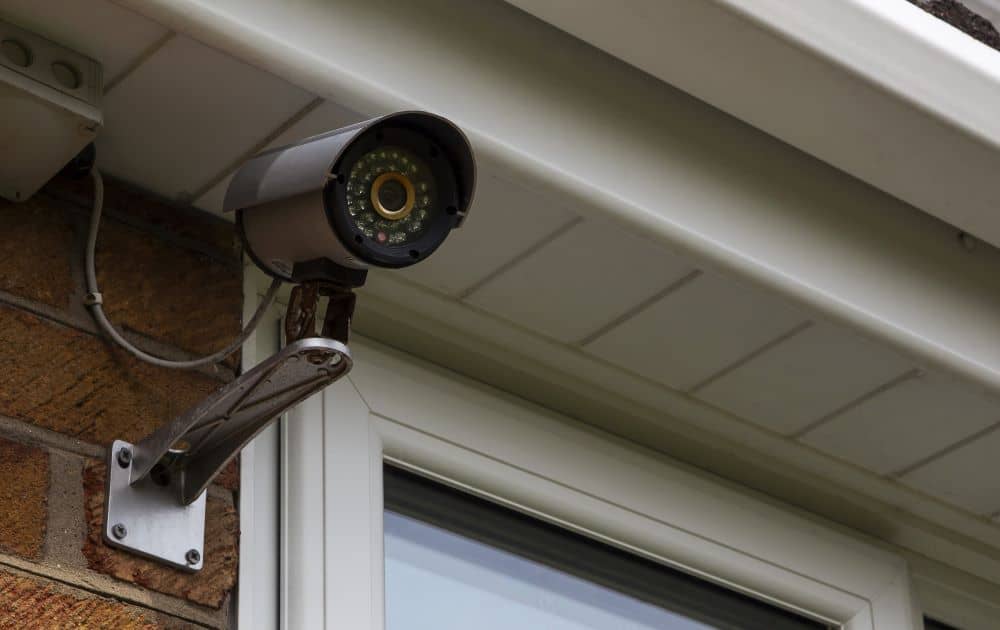 3. Smart Smoke Detectors
Also known as a smoke alarm, a smart smoke detector should be a part of your home security system. This device works like the regular smoke detector, but they offer several other specialties, including WIFI connectivity. They can also communicate with you, even pinpointing the exact location of the fire. One excellent feature is that the smoke alarm can send you alerts directly to your phone. You will quickly learn about any issues even when you are away from home.
If there is a false alarm, which typically occurs when the homeowner is cooking, you can easily silence them.
4. Keyless Locks
Smart keyless locks are a great innovation indeed. They don't just bolster your home's security, but they're also quite convenient. If you're the type of person who often forgets where they put their keys, keyless locks are the answer. You don't need keys at all (hence the name keyless).
What makes keyless locks smart is that they let you communicate with your smartphone using WIFI or Bluetooth. That means you can unlock and lock your doors no matter where you may be. Some locks even detect your connected phone as you approach, which means that your doors lock and unlock without needing to press any keys.
A smart keyless lock comes in various forms, including the more traditional with a number pad or touchscreen. You unlock your door using your nominated code. Another type relies entirely on a smartphone app, which handles all locking and unlocking responsibilities.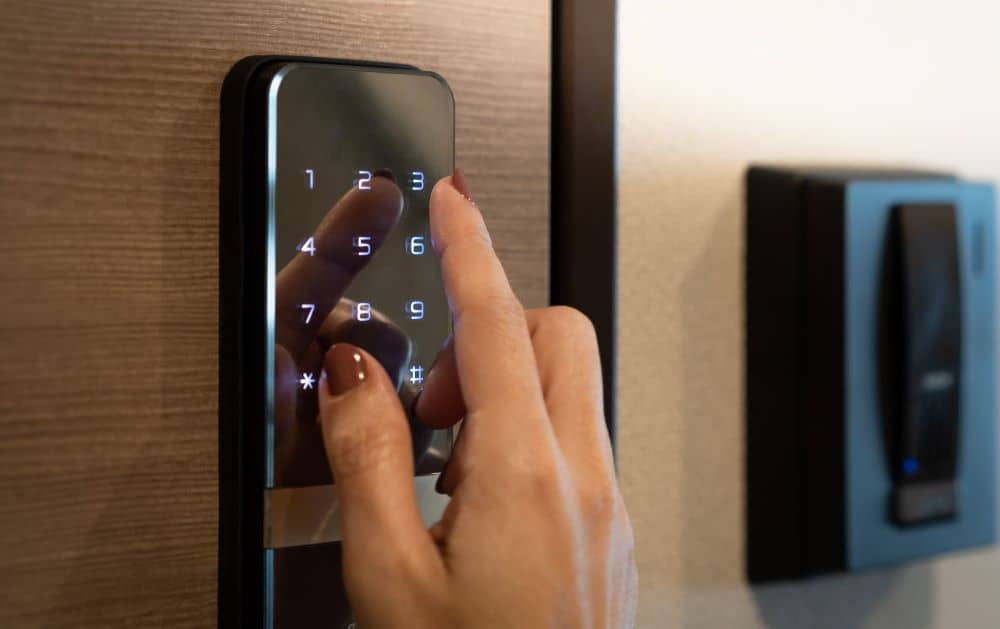 5. Smart Lights
Lighting can now combine convenience and security. Smart lights are WIFI enabled light bulbs that you can control using your smartphone. You can turn them on or off with a push of a button or on schedule. Some bulbs support dimming, colour changing, and blinking to the beat of the music. You never have to worry about forgetting to turn off the lights while you're on holiday.
These light bulbs are much pricier than normal ones. But they are often LEDs, meaning they last longer than conventional bulbs. They are also more energy-efficient even when they are in use for hours.
6. Smart Thermostats
In almost all home security systems that we've seen, smart thermostats are included. They are quite handy, especially in helping the owners save money on electric bills. And because these thermostats are smart, you can connect them with your home WIFI and control them using an app on your phone.
What's neat with these thermostats is that many of them can remember your preferences. For example, you often set the temperature to warm in the morning. They take note of your usual choices and work proactively to ensure your home is at its most comfortable temperature for you. That means you don't even have to lift a finger!
Some thermostats can also send you a notification if ever your home reaches unbelievably high or low temperatures. These situations often indicate a fire or frozen pipes in the winter.
Final Thoughts
Convenience, remote monitoring, energy savings, and handsfree control are just a few of the notable benefits of a smart home security system. For some people, these solutions are too complex, not to mention costly. Others are quite concerned about privacy, particularly since the devices will be connected to the Internet.
Nevertheless, most homeowners recognise how practical automating home security has become. From ensuring you never get locked out of your home to keeping an eye on your child remotely, home automation devices are surely a part of our future.