Description
Digital Lock Features
One thing that sets this product apart from the others is that it allows multiple ways of entry:
1. Using a Key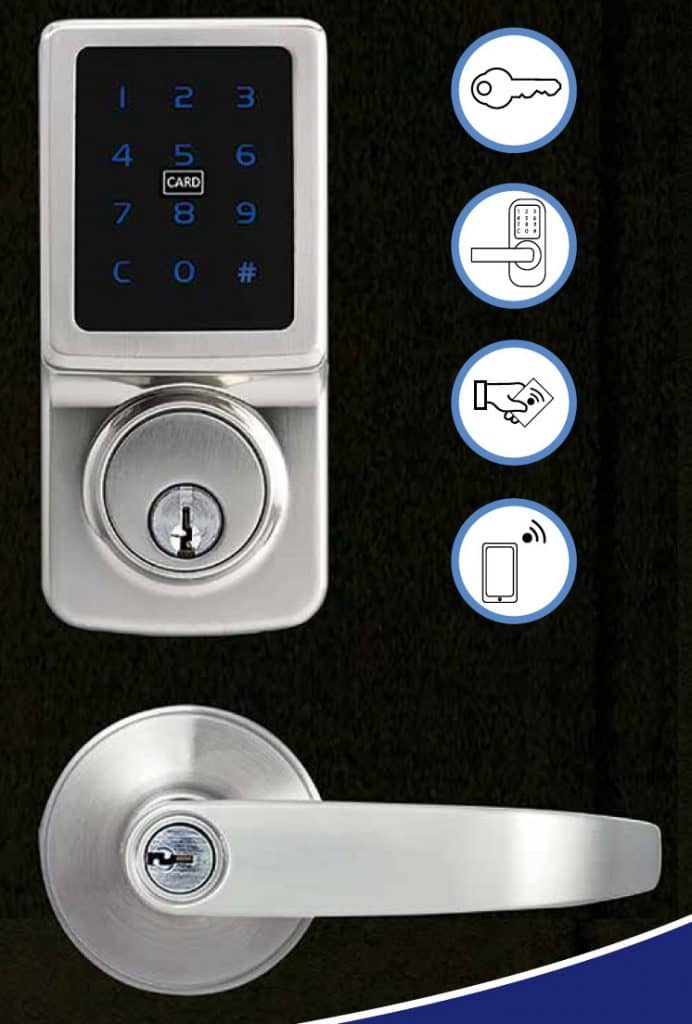 Many people still prefer to enter their home traditionally. There is that satisfying feeling whenever you put the key into the keyhole to unlock your door. The Carbine Electronic Touchscreen Leverset accepts key input, so your entrance is how you are most comfortable with.
2. Using the Keypad
The lever-set allows keypad entry as well. If you are that type of person who always forgets the keys or you simply do not want to carry them with you, a keypad door lock is what you need. This product from Carbine is a considerable upgrade from a mechanical door. You never have to worry about fumbling with keys anymore.
Keyless access through pushing buttons for your passcode gives you better control. It works for commercial applications with a high-rate of employee turnover. For homes, you can still get in even if you may have lost your keys.
3. Using a Card
Carbine Electronic Touchscreen Leverset also provides another keyless entry using the card access system. With your electronic key card, you save time while increasing the security of your home or facilities. It is especially beneficial for companies because there is no need to rekey the door when an employee leaves.
If ever someone lost a card, it is easy to deactivate its access until it is found. You can also replace it with a new one. Card access increases security because you know that someone else cannot make a copy of the card, unlike with regular keys.
4. Using a Smartphone
You can unlock the door using your smartphone. If you have always wanted to have a door lock that you can control with your phone, now is your chance. As a smart lock, it connects your door to your smartphone's near-field communication (NFC) or Radio Frequency Identification (RFID) for Android and iPhone, respectively.
Most smartphones come with this feature, specifically those that were manufactured around 2003. It allows them to transmit data securely over nearby compatible devices, which, in this case, is the Carbine leverset. This smart lock has active NFC chips that require a source of power. The good news is that they only use little energy, so the batteries last for months to years.
Smart locks like the Carbine Electronic Touchscreen Leverset utilise clever engineering. As a result, they make locking and unlocking doors easy and painless.
Other Features
The Carbine Electronic Touchscreen Leverset is a 3-in-1 leverset that comes with a touch LED keypad that lights up when you press a button. This way, you will have no problems entering your passcode at night or in a poor lighting condition.
It also allows you to get in your home or office using your RFID card or label. You can utilise travel cards, too. If you have an NFC-enabled phone that is compatible with Mifare, you can gain entry as well.
What happens when you forget your passcode? Perhaps you also forgot your RFID card or your smartphone. You can still enter the premises using standard keys. There is simply no way you can get locked out of your home or store, as long as you are an authorised person.
This leverset is easy to install since it does not need additional drilling. If you have a 54mm deadbolt or lockset, this product will fit nicely since it measures 155mm x 75mm (H x W). It is user-friendly since you can quickly program up to 25 access codes, 25 RFID cards, and smartphones through the lock.
The Carbine Electronic Touchscreen Leverset also includes vacation mode, which lets you lock out all users.